Brought up in southern Oklahoma and Fort Worth Texas, Angie was raised on Country music. When most kids her age were at pop concerts she was attending old school country music shows and tuning into Charlie Rich, Loretta Lynn, Crystal Gayle and Don Williams.
Angie went from fan to reporter with her first local cable show "Talk Country Video" at the age of just 21. The show involved playing county music videos and interviewing artist such as Sammy Kershaw and Neal McCoy as they came through the Dallas/Ft. Worth area. The show was LIVE and ran 3 years. During this time she was also the spokesperson for the TCMA (Texas Country Music Association). Presenting awards to and interviewing National Artist who were Texas Natives.
Her next step in country music was as co-host of "Crossroads" another LIVE TV show with a similar format that ran 5 years. During this time she simultaneously hosted a taped rock video and interview show following bands like Pearl Jam and Pantera.
Other LIVE television experience includes ring announcing for boxing matches on the USA network, and covering the Texas Rangers baseball team on local and national sports stations.
Her experience speaking in front of live audiences includes over 300 trade shows, conventions and shareholders meetings with audiences as large as 5000 people.
Angie's entertainment magazine show "Deep Ellum Nights" highlighted the entertainment scene in the Deep Ellum district of Dallas and remained the #1 rated local show in Dallas for 4 years; consistently beating local ratings against shows like "Late Night with David Letterman".
After moving to Nashville in her late 20's, Angie worked in the promotions end of country music putting her ON THE ROAD with such artists as Lone Star, Ricochet, Mark Chesnutt and Ty Herndon. This valuable experience gave her an even deeper understanding of the music industry.
Angie can be seen (in disguise of course) in Ray Stevens' movie "Get Serious", as the female interest in his "Shriners Convention" music video and in various other music videos. Her country dance moves have put her on several shows for CMT, The Nashville Network and The Disney Channel.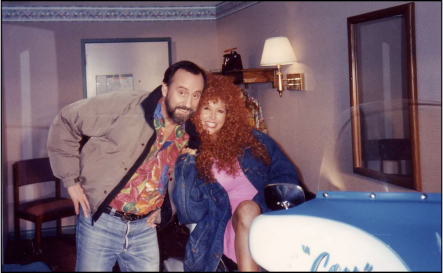 Taken on set of the Ray Stevens movie "Get Serious" 
Ray Stevens - Featuring Angela Blevins
Upon moving to Hollywood, Angie teamed up with radio personality "Skeeter Mann" in developing a 2 hour radio show for syndication entitled "Country Music Then & Now." The show included music and interviews from some of the favorite country artists from her childhood, as well as some new up and comers. The show has been heard on Saturday mornings across the country.
Angie often travels home to Texas and Oklahoma to the Blevins Ranch where her family breeds, trains and shows Peruvian Paso Horses.
www.ljbperuvianpasos.com
Baby in the barn
at Blevins ranch Oklahoma Summer 2016